10 Of The Best Video Editing Apps
Our selection of the best video editing apps available for your smartphone or tablet
In today's click-or-you'll-miss-it world, content rules supreme. And none more so than through videos – they can be a make-or-break format for the promotion of a product, service or piece of entertainment.
Like the opportunities afforded to us regular Joes to capture and share video via social services such as Instagram and Vine, the attainment of content nirvana can be readily accomplished by downloading a video editing app that'll help you trim the fat of your 22-minute masterpiece.
But which apps are best for all you budding Señor Spielbergos out there? To answer that burning question is TechWeekEurope's guide to ten of the choicest cuts of mobile editing software.
Magisto
An already highly-rated service, Magisto is available for free on both iOS and Android platforms to satiate your video editing desires. Perfect for beginners to the editing game, its smart AI will essentially analyse your video clips, decide how best it would go together by trimming and editing the key parts, and then stitch it into one compact film for you to share and distribute wherever you like. As one anonymous testimony states on their App Store page, "My funny baby videos came out so cute!" And isn't that what we're all looking for in life?
Clips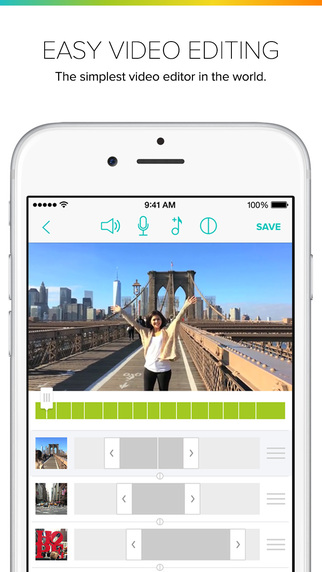 The brainchild of prize-winning start-up Fly Labs, Clips aims to simplify the video-making business by offering quick drag-and-drop gestures in its easy-to-use interface to make the process of video editing just that little bit easier. With provisions for the use of up to 100 clips from your iPhone's Camera Roll, Clips also has the capacity to incorporate your own music into your video's soundtrack, as well as the use of the phone's inbuilt microphone to add any extra audio.
iMovie
The staple video editing software for iOS, it lets the user splice together footage that they've captured on their Apple phone or tablet to create a cohesive film – like all video editing software, right? Wrong. iMovie's way of operating is as smooth as the silkiest silk, whilst it offers the provision of extra features such as voice-overs, additional music and photos. Plus there's a whole array of theatrical trailer templates that are just dying to be used and abused.
Androvid
Never fear, Android users – the not-misspelt Androvid has got you covered when it comes to editing your videos. Providing you with a service to trim your clips and produce your own videos, Androvid's Pro version is where the app really comes alive. Offering video flip features, various soundtracking capabilities and snazzy visual effects, it's an excellent editing companion to your phone's inbuilt camera.
Vizzywig
Silly name aside, Vizzywig is actually a very proficient option to choose when it comes to choosing a video editing app. A powerful iOS-only service that'll leave you with a rather professional-looking end product, Vizzywig is the first all-in-one movie-making app that lets you record, edit and preview in real time. Easy to get to grips with and attractive to the eye, don't let the name put you off making an investment in this accessible app.
Pinnacle Studio
Is this the pinnacle of video editing apps? A tough call to make with such solid competition, but the ambitiously-named Pinnacle Studio aims to specifically be the best for those already of a video-editing persuasion. Ideal for users who know their way around an editing suite, this app is a professional-looking follow-on from the much-praised desktop version that's been kicking around since the 90s. Offering an array of visual effects and more complex transitions, as well as more control generally in the editing process, Pinnacle Studio may be ideal for those who are in the business of regularly uploading professional-quality videos.
Movie Edit Touch
Essentially describing its three primary features, this is rather a wildcard entry in our list owing to its exclusivity with Windows phones. Powered splendidly by Windows 8 software, Movie Edit Touch rivals iMovie through its generous array of editing features, such as frame-by-frame edits, soundtrack provision and HD capabilities. Perfect if you're a Windows kind of guy/gal.
Fused
Ever wanted to blend two videos or photos together? That's a strange desire, isn't it? But said strange desire can now be fulfilled by Fused, a specialist app that deals in fusing together multimedia in the form of "double exposure." Offering "one-of-a-kind visuals", it's sort of like building a virtual collage: you select a background and a foreground, and then embed your visuals into the soon-to-be masterpiece using its friendly user interface. And then, the pièce de résistance: you choose your favourite blending mode from a plentiful list of 20. And voila! A "Fused" piece of art is yours to show off to the world/your Facebook wall.
Replay
"Make videos, faster than ever", boldly declares Replay's website. Rapidity is indeed the key factor here for this iOS-only app, with the provisions to add up to 200 videos and photos in over 20 "beautiful video styles." Styled with an attractive interface, Replay is a rather formidable service, owing primarily to its intelligent AI that analyses your videos, adds motion graphics, and selects an apt soundtrack – all with one tap.
SloPro
So go on – take a guess at what SloPro's USP is. Take a wiiild stab in the dark. Was it something relating to the ability to slow-down normal-speed video? Congratulations! You win some sort of prize (don't contact TechWeekEurope about this, please). Er, returning to normalcy, SloPro is an intriguing service that offers the full editorial capabilities needed for you to play video that you've captured in "super slow-mo" –  that's 1000FPS, apparently. Ideal for the footage that you might capture whilst watching something like the Tour de France whizz past, or, to offer a completely contrasting example, an exciting snail race.
How much do you know about mobile apps? Take our quiz!
Read also :