10 Of The Best Offline Apps
Go off the grid with our selection of some of the finest offline apps around.
We all know the feeling: you're kicking back, listening to music on the train when, all of a sudden, it cuts out. You think to yourself: is this a particularly avant-garde track where the band stops playing abruptly? Why is technology letting me down? Why?!
Of course, not all apps and services work on our device of choice when you're either offline or out of service, so it's important to have some that do work in case you're ever a) in need of help, or b) bored.
You want a taster of the offline app world, you say? Well, let us deliver it to you, right here, right now.
Offline Reader !
The erroneous positioning of the exclamation mark in its name aside, Offline Reader ! is actually a very handy service in that it provides you with reading material for those times when you find yourself with no signal. Now you can cosily snuggle (read: be squished) up next to the person on the commuter train and browse your favourite web pages without the need for constant internet connectivity. Simply remember to save a web page for later browsing by touching the accompanying icon on your device's browser when you do have internet and the app will retain it for you, in all its image and formatted glory. Wondrous.
London Maps Offline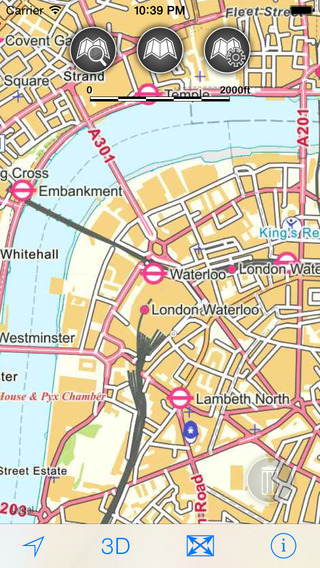 JOMO Solutions are the offline map kings of sorts, with a range of OS maps available for different (and often wilderness-specific) locations: Ben Nevis, Lake District, Yorkshire Dales – that sort of thing. But perhaps most importantly (unless you're stuck on an English moor somewhere) they've provided an offline London map that you can use, most critically, on the tube, where there's not a trace of signal to be found. With 7 levels of offline 2014/15 Ordnance Survey map detail (including street level) and offline search functionality, no longer do you have to tap aimlessly at your useless smartphone in the hope that your Map app will magically spring to life despite the fact that there's not a trace of internet to be found underground.
Cityfox
Oh, you sly Cityfox – available only on the App Store at present, this may be an app to keep an eye on in the coming months. Launching only in Amsterdam thus far, Cityfox works under the premise that you're "being guided around by a local – if a local was squished into your phone!" Working completely offline, the app advises you on the best sights, sounds and, er, something else that Amsterdam so famously has to offer – consider it your virtual tour guide, given that its information is compiled by ITK locals and experts.
Wiki Offline 2
The priciest addition to our list, Wiki Offline 2 is, well, quite self-explanatory. The second version of Avocado Hills' offline app, its sole purpose is as a Wikipedia reader that you can access offline. "If you're a traveller or a knowledge lover, this is your hitchhiker's guide", states the bio, before your eye is drawn to the eye-watering £7.99 cost. But, if you've a thirst for knowledge that can't be quenched, then perhaps you need a Wikipedia service that you can access whenever and wherever: "works on an airplane, in a submarine, or anywhere else!" One for the sailors, then.
blinkbox Music
This streaming service is notable in this instance for its claim to be able to offer an offline service for its 12 million songs. Simply download your desired selection of musical ditties – known as "stations" that are curated by "our music experts or artists, including Ed Sheeran" (a ringing endorsement if ever there was one) – whilst online and you can have access to playlists such as the current top 40 offline. Could be a shrewd investment if you're travelling and, for some reason, not in possession of some sort of an MP3 player.
Max Payne
Our representative from the gaming world is arguably one of the finest video games ever made – and, rather excellently, its app version works both on and offline (with the latter you won't be able to access Rockstar's additional content, but who needs that, really). Originally released in 2001, you take on the role of the eponymous NYC detective who goes on the run after being framed for the murder of his family by a rather nasty drugs gang. Avoiding drug lords, mobsters and even his fellow policeman, you guide Max through the freezing cold Manhattan landscape and do battle with foes using the inimitable Bullet Time gunplay: use it to slow time down to catch your enemies out. Still an absolute tour de force of gaming.
Translate Professional
Found yourself in a foreign country without a single word of the native tongue to your name? Psht, no longer a problem: Translate Professional works without an internet connection to help you get out of such sticky situations. There are no boundaries with Translate Professional – well, there are if the language you desire is outside of the 50 that its service provides – as the phrase book works wonderfully offline.
Pocket
Go one better than the aforementioned Offline Reader ! app with Pocket, the acclaimed offline app that "saves articles, videos and other web content for later in a beautiful and optimized easy-to-view experience for your phone and tablet – even offline." Sounds pretty glorious, donchathink? Ideal for commuting, travelling or when you're at risk of upsetting the data roaming Gods, Pocket comes with unlimited storage, 3 full-screen reading modes (i.e. for day and night) and desktop browser extensions for Chrome, Safari, Firefox and Internet Explorer, permitting you to save anything from your Desktop to your device.
Easy Currency Converter
Abroad and don't have a clue about the exchange rate? Don't go traipsing through the local town in search of Wi-Fi – download ExtraAndroary's Easy Currency Converter before you go and save yourself a lot of bother. With over 180 live exchange rates available (you have to download the latest data before you go offline, obvs), this app will show you the way when it comes to figuring out how many Lira there is to the Pound (the Lira still exists, right?). You can also select your preferred currencies, and study currency graphs – essential, no?
Tube Map
Look, maps are important, OK? Especially when you're in London, and you don't want to carry round one of those pocket-sized paper maps that break up surprisingly quickly over a day's worth of travelling. mapway's creation is the undisputed champion of the tube maps that are available for download, with an interactive platform that lets you glide around London's various lines and stations with a simple scroll of your screen. Although its vital Line Status and Notification services won't work when you're deep underground, you can still access the entire map and use the Route Planner to help you get from A to B.
Read also :