10 Of The Best Dating Apps
Explore our top choices of mobile dating apps
Happy Valentine's Day! What a joyous occasion: full of love, tenderness and oversized novelty cards that contain the kind of soppy messages Joseph Gordon-Levitt's disaffected character concocted in 500 Days of Summer.
Ok, so maybe it's not quite a universally-joyous occasion. But singletons need not fret too much about spending an ultimately-arbitrary and over-commercialised day alone – they can instead get back on the horse by downloading a dating app and potentially starting something new and exciting.
Here to satisfy your obvious curiosity, then, are ten picks of the best dating apps around.
1. Tinder
The dating app of the past couple of years, the Tinder phenomenon has reinvigorated the online dating scene to the extent that its name alone has entered the general lexicon. Pretty much everyone you know – or at the very least the single people – will have probably dabbled in a bit of location-based swiping at some time, whilst a sizable number will have actually followed through on said swiping by actually meeting someone that they've matched with. With age, distance and gender filters all included, it simply asks for access to your Facebook profile – you of course control what aspects you share – and then away you go.
2. happn
Location is a cornerstone of the modern dating app, and the French-made happn has built its USP around that very feature. Where it differs from the majority is how it matches you exclusively with people that you've crossed paths with – they have to be fellow happn users, of course, but the app tells you when and where you walked past one another using GPS tracking. It's not that scary: it's meant to capitalise on the sensation of seeing someone who you find attractive whilst out and about, and then allowing you to initiate online conversation via the 'like' function on the app. If they like you back, then communication can commence: "Oh, you go to that coffee shop?! Me too!", etc.
3. POF
Plenty of Fish is the name behind the acronym, presumably aiming to exploit the timeless advice that's often given to the recently-dumped about what dwells in the sea. Boasting that it possesses the most features of all its rivals to help you connect with the future love of your life, POF lets its Cupid-rithms do the work in pulling up matches that best suit your interests, based on your completed profile and location. If there's mutual interest, then users can exchange an unlimited number of messages for free – the rest is up to you.
4. Badoo
Similar to happn, Badoo is a service that helps you meet people that you've bumped into in real life. Where it goes the extra mile, however, is its emphasis on pairing you with people who frequent the same places that you do: be it the pub, train station, or, er, doctor's surgery. Badoo also tells you how often you've bumped into someone, which could be awkward if you're resorting to the help of an app to finally summon the courage to speak to someone attractive who you see all the time.
5. Twoo
This app has more than 10 million active users in a bustling community that's eager for you to join its ranks. Another like-based swiping function is the pathway to a potential friendship on the app, where you can chat, share photos or play introductory games with your match in order to break that damned ice.
6. OKCupid Dating
Coming out swinging in its claim to be "the best and highest-rated dating app on earth", OKCupid is another service that does the math for you when it comes to effectively arresting your singledom. Fill in a profile – including such bio sections as 'I'm really good at' and 'I'm looking for' – and OKCupid's lovely bunch of algorithms will do the rest in sorting through its database for the matches that best suit your interests. Like its competitors, OKCupid is a freemium service that does get better if you pay – you can browse profiles invisibly, for instance – but it's a fine alternative to the Tinderers of the world.
7. JAUMO
Another app that capitalises on the sensation of connecting with someone attractive who you've shared a crowded tube carriage with, JAUMO is all about giving you that second chance at meeting. And isn't that a nice thing? Made by friends-with-no-surnames Benny and Jens, their creation has provided an easy-to-use, chat-based service that enables you to chat and flirt and all those other things – all for free!
8. LOVOO
LOVOO too, right? That's what you'll be hoping to say to your future partner once you've initially connected using this colourful social discovery network. This app's Live Radar is its prize possession, capable of picking up people in your area who want to connect with you. Resplendent in its sleek interface and easy accessibility, LOVOO could be the cure to all those "unrequited winks in a café or fruitless attempts at starting conversations in clubs", as its online manifesto so bluntly states.
9. Double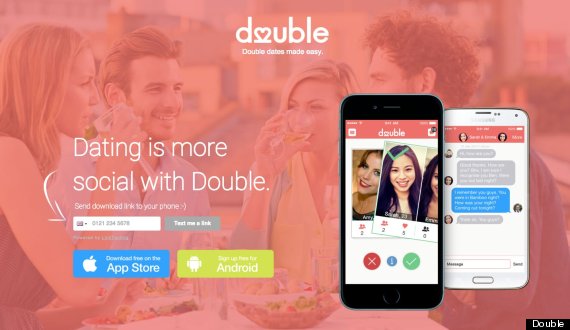 Suspiciously similar in interface to the dating app behemoth that is Tinder, Double then throws up a curveball through its modus operandi. Location-based as ever, this app specifically exists to set up double dates: invite your friend(s) to be a 'Doubler' and create a joint profile (or many profiles with any number of your friends – why not increase your options, eh?). You can then both anonymously like or dislike pairs that Double suggests, and, if it's a mutual like, then it's "Double Trouble" and you then enter into the app's chat mode. A good and original idea in theory, but will it work in practise? "Two's company, but four's a party", Double confidently states, all but confirming a good time.
10. Clocked
Closing our list of dating apps is a self-styled 'smart' mobile service that helps you meet new people. In addition to your location, Clocked takes into account your social and professional background (as well as your "values" – whatever they may be) before using complex algorithms to find you a match on its database that scores highest on its 'Clock Compatibility Rating'. But then comes the catch: you have until midnight to make a decision on your matches – either like or dislike what Clocked finds for you before the eponymous mechanism countdown reaches zero, or you lose them all forever. With Instagram integration included to boost your profile, Clocked brings a unique spin on the mobile dating game.
How much do you know about apps? Take our quiz!
Read also :