10 Apps To Help Get Organised
Time to get on top of things with our ten picks of the best apps to help you get organised.
Right, today's the day! It's time to say goodbye to the old you and hello to the new. And we're going to embrace this fresh attitude by getting waaay more organised in both your personal and professional lives.
But hold on – don't rush out and buy the latest Moleskine diary and a year's supply of post-its just yet. Let's instead consult our smartphones and tablets to find an app that'll help you finally get on top of all those things that you're meant to have done in the past week.
Here to guide you through this new glorious age of systemisation, then, is our guide to ten of the best apps that'll help you get organised.
Todoist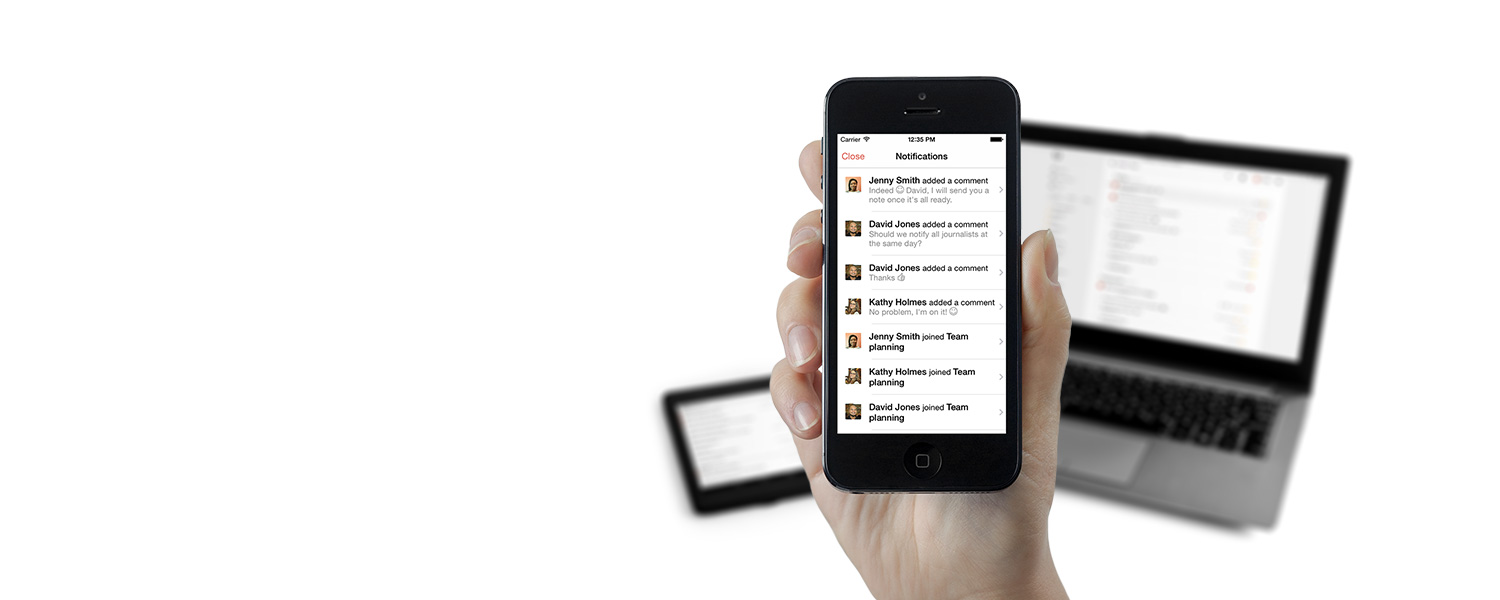 No, not a member of a new, hyper-organised religious movement: Todoist is an app that claims to be the "world's most powerful to-do list," which is certainly a major achievement if true. Widely available – iOS, Android, Windows, Firefox etc – Todoist is an interactive diary and personal organiser that enables you to manage your daily tasks from anywhere, even without an internet connection. With a sleek design, collaboration function and a system of reminders, you may very well find renewed hope in organising your day-to-day activities by converting to the Todoist way.
WorkClip
A relatively new productivity app, WorkClip is already receiving rave reviews on the App Store for its ability to store, annotate and share images. Use the app to work on an image: if you were sketching out some building plans, for instance, you can take a picture, open it in WorkClip, and then annotate and sketch around it as you please. Powered by an easy-to-use interface and possessing a to-do list and sharing function, it's a fine choice if annotating pictures is an activity you regularly indulge in.
Pinnic
An interactive pin board, Pinnic is a very attractive service that resembles the drawing pin-strewn, woodchip-brown board you used to have in your bedroom. Designed to especially benefit visual learners, Pinnic permits – nay, encourages – the creation of multimedia mind maps (video, audio, contacts), as well providing a platform for note-taking, drawing and receiving files from your PC/Mac. Easy to navigate and simple to get to grips with, Pinnic may just about save your life, organisation-wise.
Timeful
Now this is a smart creation: Timeful's smart daily calendar works out which tasks you should prioritise, using its algorithmic intelligence to gradually adjust to your routine and lifestyle the more you use it. Share your calendar with colleagues and friends, but hide your "habits" (Timeful's term – honest) from view – like going to that secret burrito place for lunch – so you can truly input everything that you need to do within a working day without fear of it being discovered. You can also sideline events to free up your time, compile to-do lists and sync it with your existing online calendars (Google, Apple iCal, etc). It's a truly accommodating app.
One List
Find that the day often runs away from you, having failed to complete a number of important tasks? Get organised and on top of things with One List (available for free on the App Store) to stop the productive rot. Colour-coded to bring a dash of vivacity to your working life, you prioritise your to-dos using these colours (turquoise for low, vivid pink for urgent), as well as adding daily reminders and a notification system to alert you to particularly pressing matters.
Wave
Available on both the Play and App Stores, Wave is an excellent alternative to your smartphone's inbuilt and often-clunky calendar application. Customise your preferred schedule layout (day, week, mega-month – which sounds particularly exciting), add travel times to your appointments and integrate to-do lists with your new smart calendar. Contained within a clean, pleasant interface, Wave is a much-praised service that'll organise your busy professional life into something that's entirely manageable.
Trello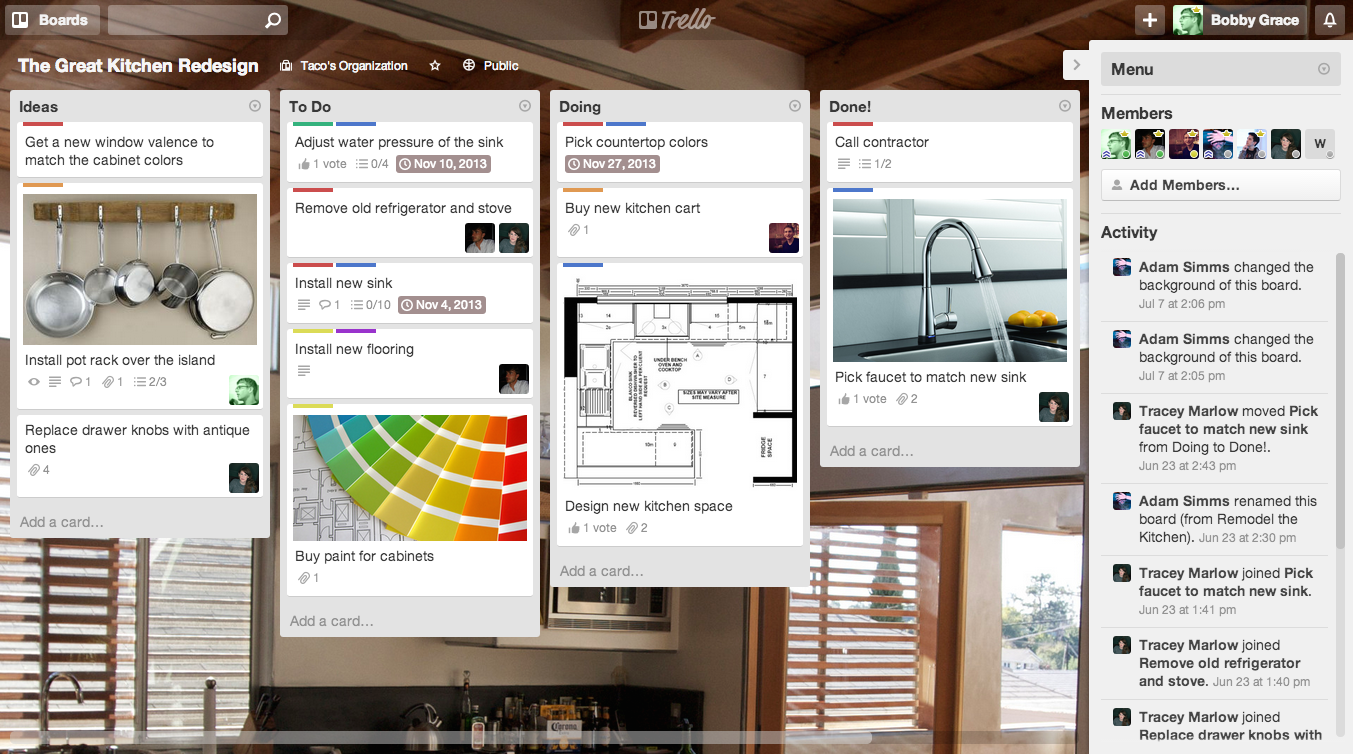 Free as a bird, Trello is an attractive visual organisational tool that'll galvanise the way you work. Expand your projects using a Trello board – a list of lists spread across your screen that you and others can collaborate on. Follow a timeline to monitor workflow between colleagues, drag-and-drop notes as they either increase or decrease in importance, and upload files from your computer, Google Drive, Dropbox, and a whole host of others. Plus, their mascot is the bright-eyed Taco, a "spokes-husky." No doubt a million times better and less annoying than the Microsoft Word's Clippet (yes, it had a name) or The Legend of Zelda's Navi.
Calvetica
Another fine calendar app, Calvetica does so much more than just sound like a Croatian right-back you'd sign years into the future on Football Manager. Ideal for those with a packed schedule, this fast calendar's easy entry function enables quick note-taking and to-do listing, before it automatically ticks off tasks or appointments that are completed by a set deadline (notifications for which can be set). The only downside is its iOS-exclusivity, but those with such products should give Calvetica a good look.
EasilyDo
EasilyDo's name positively emits simply-achievable productivity, so why not see if it translates into your work and social life by downloading this handy organisation app. "Never miss anything" is its tagline, and it certainly aims to help you do just that: it connects with your calendar, email and social networks to bring everything you need to remember to do together into one accessible place on your smartphone. EasilyDo also organises your contacts (deleting pesky duplicates), provides a path to posting on Facebook and stores vital travel information.
TaskRabbit
The final entry on this list is the highly ambitious TaskRabbit, a chore-completing app that's just become available in London after a successful launch in the US. Need your food shopping delivered? An IKEA bookcase assembling? Your cat fed? TaskRabbit finds safe and reliable help in your local area to get it done. From house cleaning to handyman services to queuing – yes, queuing – TaskRabbit pledges to connect you with people (whose identities and trustworthiness are thoroughly vetted by the app makers and rated by fellow users) willing to do those things on your to-do that you simply don't have time for.
How much do you know about mobile apps? Take our quiz to find out!