After the party, it's the hotel lobby – and then to that superb hotel room you've booked with one of these excellent hotel booking apps.
"Hotel, motel, HOLIDAY INN!" – So said the wise prophets, Sugar Hill Gang, when they served up some delicious Rapper's Delight all the way back in 1979. Little did the New Jersey hip-hoppers know that, when they penned that particularly iconic line, it would be used as a convenient segue into an informative listicle on 10 of the best hotel booking apps. It's funny how things work out.
So yes: it's summer, it's holiday time and it is, therefore, hotel time. But nowadays you don't need to visit a travel agent, get the Yellow Pages out, or even power up your laptop. Simply whip out your smartphone, download a hotel booking app and arrange your holiday accommodation with a few thoughtless/keenly-considered swipes and taps. The future's great, isn't it?
Trivago
The German metasearch site specialises in trawling through the plethora of hotels listed on the internet to present you and you alone with the best deals. So it's nice that, in amongst all that incessant searching and trawling, they've managed to devise an app that brings their oh-so-helpful service to your handheld device. The Trivago app compares more than 700,000 deals from more than 175 booking sites daily to provide users with the best and most competitive rates. Ready to work wherever you are in the world, use it for long-term planning or frantic last-minute bookings to secure the best and most appropriate accommodation for your trip.
Groupon
The notion of a coupon is a marvellous thing, so it's nice that someone has kindly decided to digitise this valuable practice of money-saving into the app world. Groupon are world-renowned for providing cutting-edge deals for everything from restaurants to haircuts in more than 500 cities across the planet. Offering up to 50-70 percent off regular prices, the hotel section on their app offers discounts on a generous selection of places, with a particular emphasis on their 'Groupon Getaways'. Offering trips domestically and internationally for all kinds of budgets, it's well worth exploring if you're planning on absconding from your daily life for a week or two this summer.
Expedia Hotels & Flights
Expedia is sweetening the deal somewhat by offering £20 off your first mobile hotel booking of £100 or more – so that's a bit of an incentive to download this app ahead of their competitors, isn't it? Bribery aside, Expedia has long established itself as a frontrunner of the online travel world, so it's little surprise to hear that their accompanying app is a reliable piece of software. Easy-to-use and equipped with alerts on the latest mobile-exclusive deals (sometimes worth up to 40 percent off), it's an excellent trip companion to have sitting in your pocket during both the booking and the actual holidaying stage.
TripAdvisor Hotels, Flights, Restaurants
Probably most famous for being a forum for disgruntled travellers to leave scathing reviews of their most recent roach-ridden choice of accommodation, TripAdvisor also offers booking capabilities for hotels and flights in app form. So, that's a thing. Use their reliable review system to sift through the best (or worst) hotels that are most suited to your budget, and then book, book away with this free and handy app. Also stocked with downloadable maps of more than 300 cities worldwide and recommendations for said cities, it's a fine choice of hotel app.
TravelZoo
Zoological types, listen up! Actually, maybe don't – TravelZoo isn't as literal as its name might suggest. Rather than helping you to travel to any zoo in the world, TravelZoo is "an award-winning and independent publisher of travel, entertainment and local deals" with 3.8 million users worldwide. So, er, stop being so facetious. Their global team of "deal experts" work tirelessly to keep the app up to date with the latest travel deals (which they apparently negotiate themselves most of the time), which'll no doubt aid you in securing that very hotel you wanted for that very sumptuous price that you just can't believe you're paying.
Amazon Local
What doesn't Amazon do? Well, you can't use "book your hotel for you" as an answer, as it turns out their Amazon Local app can indeed assist you in arranging this form of accommodation. Using your existing Amazon account to complete transactions, this app permits you to find offers that are local to you, ranging from restaurant deals to theatre shows. Whilst they specifically reference "boutique hotels" in their accompanying bio, the app is still well worth exploring as an alternative to Groupon.
Secret Escapes
Luxury holidays or hotels your thing? Then Secret Escapes may well be your ideal bedfellow/smartphone app of choice. Operating on a members-only policy, signing up to Secret Escapes enables you to take your pick from a wide smattering of extravagant destinations for that extra special getaway. In app form, Secret Escapes can help you save up to 70 percent off their handpicked luxury hotels in the UK and abroad through their flash sales, as well as giving you the opportunity to book up to a few days in advance.
Airbnb
Having enjoyed a phenomenal surge in popularity last year, Airbnb is now a household name, and a widely-respected alternative to standard hotel/hostel accommodation across the world. "Opening the door to the world's most interesting places to stay", the app lets you rent out someone's place for a comparatively nicer price than that corporate hotel down the road. With more than 600,000 listings in more than 34,000 cities, you can be connected to an excellent and reliable means of accommodation through just a few swipes. On the other side of the coin, meanwhile, is how it enables you to rent out your own house/flat/cardboard box to travelers from the world over – so embrace your inner innkeeper and go and earn yourself some dollar.
Hostelworld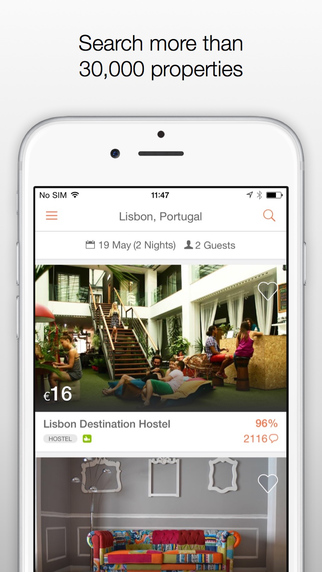 Youth travellers the world over, your gap yah experience isn't complete without downloading the Hostelworld app on your precious smartphone that you seem so obsessed with using. Offering beds or rooms in more than 35,000 hostels, hotels and B&Bs the world over, the Hostelworld app hooks you up with well-rated (and wholly within-budget) places to stay whilst you're on your travels, finding yourself and all that jazz. With no sneaky booking fees or additional costs in sight, it's an excellent travel companion – especially if you're the kind of person who doesn't immediately recoil in horror at the word "hostel".
KayakPro
By no means exclusively reserved for dedicated kayakers the world over, Kayak Pro asks for a simple 79 British pennies in return for access to their smart and reliable travel search engine. Search hotels across a ream of booking sites to find one that best suits your price range and desired location, even if you're looking for a place to stay tonight (ooh, you always cut it so fine, don't you?) With additional features that include automatic airport check-in, rental car search and itinerary management, this could very well be the best 79p that you spend…well, ever.