10 Of The Best Gaming Laptops
We're game for helping you choose your next gaming laptop
So you want to game, eh? And on a laptop too? Well, aren't you quite the wildcard.
Luckily, we here at TechWeekEurope are quite fond ourselves of gaming on our laptops, so we're in a fairly decent position to be able to advise you on what machine you should invest your hard-earned dollar in.
Here then, for your imminent browsing pleasure, are ten of the best gaming laptops currently leading the market – at least in terms of performance, *general* cost-effectiveness and basic all-round awesomeness.
PC Specialist Optimus V
A machine that you'll find in your high-street computer store (not naming any names here), PC Specialist's Optimus range found exceptionally good form recently with the V. A company that allows, nay, encourages you to custom-build your own gaming laptop, it's been praised with the Optimus V for constructing a machine that offers a smooth and versatile performance for a price that thankfully doesn't exceed £1,000. With excellent Onkyo speakers, Intel Core i7 processor and NVIDIA GeForce GTX, it's an especially first-rate machine for proficient Windows users.
MSI GT80 Titan
Gaming titans MSI have something of an ace in the GT80 Titan, which has garnered splendid reviews from outlets across the land since its release. A top-notch Windows notebook, its gaming speed is particularly spellbinding, owing much to its Intel Core i7 processor and two NVIDIA GTX 980M graphics cards. It's as much a heavyweight in reality as it is in name: its 18.4-inch screen is almost overwhelming, whilst its authentic mechanical keyboard, which glows red when in use, is a rather nifty feature. That being said, however, it's near-impossible to use on your lap due to its sheer weight and its lack of keyboard palm rest. One for the desk-user, perhaps.
Schenker XMG P505
"Ready to take a quantum leap in Mobile Gaming?" asks Schenker. Rather indirectly addressing the Titan's weight-induced drawback, they've instead produced a powerful gaming machine in the XMG that's far more portable/lap-friendly, due primarily to its slim aluminium chassis. And then there's the mouth-watering specs, which just ooze high-performance: 4th Generation Intel Core i7 Processors, NVIDIA GeForce 900M series graphics, a 4K QFHD (3840 x 2160) 15.6″ IPS screen, and up to 3TB of Usain Bolt-esque M.2 SSD storage. Read 'em and weep.
Aorus X7 Pro
Another slimline-yet-powerful gaming laptop, the Aorus X7 Pro is certainly one for the serious, but mobile, gamer. With a 17.3-inch screen but 0.9-inch width, weighing in at a featherweight 6.6lbs, it's a machine that you can easily grip with one hand, should you be taken with the sudden bizarre necessity to do so. Stocked with a NVIDIA GeForce GTX graphics card to easily achieve 1080p glory, as well as Intel i7 to, amongst other things, cut down on power consumption, and AORUS RAID Xpress for maximum read speed of up to 1500MB/s (12.5X faster than a typical hard drive), it's certainly a gaming laptop that's designed to perform at the highest levels.
Gigabyte P55W v4
Gigabytes' latest piece of hardware aims to "unleash your gaming soul", which sounds pretty ethereal to us. Achieving such a goal is perhaps down to your own personal gaming experience, but the specs seem to suggest that this piece of hardware will get you pretty darn close to achieving gaming nirvana. Equipped with, as seems the norm presently, NVIDIA GeForce GTX 970M and an Intel Core i7 processor, it also offers up to 512GB of storage and Dolby Digital Plus Home Theatre for that crisp, professional sound. Garnished further by a premium backlit keyboard and a real emphasis on meeting your gaming needs, this is a fine piece of kit to invest in.
Alienware 17
The formidable Alienware's most advanced laptop creation yet may set you back to something over £1,000, but it could be well worth it in the long run. A 17.3-inch FHD screen is your portal to gaming paradise, supplemented by Intel Core i7 Overclocked processors and (optional) NVIDIA GeForce GTX 980M with 4GB GDDR5 to really make you drool. "It's the gamer's choice for ultimate power and thrilling performance," claims the accompanying bio – and you'd be hard-pressed to find too many other machines that'll offer the kind of performance that has made Alienware a world-renowned name in gaming.
HP Omen 15
A more mainstream computer manufacturer makes an appearance here; making this list with the impressive Omen 15. A sleek machine with a lovely 15.6-inch, diagonal HD screen, up to 16GB of DDR3 memory, and fine NVIDIA GeForce GTX 860M graphics, it's a gaming laptop that longs to be seen to be as powerful as a desktop. Resplendent in its immersive sound card, customisable keyboard and lightning-fast processing, it's all intended for you to "dominate your opponents…Yeah, you should be scared" – and so perhaps it's time to make your opponents as equally as fearful with the spirit of the Omen.
MSI GP70 2PE
Otherwise known as "Leopard", this offering from MSI is another wonderful piece of gaming equipment. "Delivering extreme performance" through the in-built NVIDIA GeForce 840M card, it'll ably assist you in hunting down your gaming prey whilst online. Complete with a 17.3-inch screen (with a Matrix display "to expand the vision for extreme gaming experience"), a SteelSeries specialist gaming keyboard and the intriguing "Exclusive MSI Super-Charger function" – does it help the battery last forever? How super is it? Can you play Super Mario on it? All these and a million more questions will *probably* be answered if you choose to invest in this particular MSI machine.
Asus ROG G751JY-DH72X
This catchily-titled offering from Asus is a bit of a beast: weighing in at 9.06lbs, it's a considerably heavy piece of hardware, which may put you off actually using it on your lap. But, if that's no bother to you, then you may be convinced by its competitive nature: with high-end 3D performance, 32GB memory and 1TB of hard drive storage, Asus have certainly gone out of their way to have many of the important spec boxes checked. Its best asset? The price – it's a way more affordable laptop than you might think, particularly for the kind of service that you'd expect from something a lot more expensive.
Digital Storm Krypton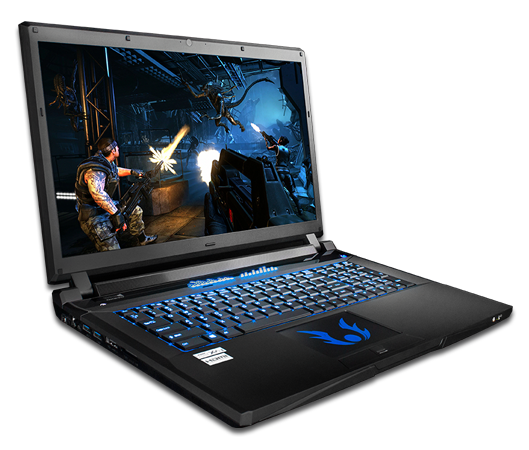 The most Superman-sounding on our list, Digital Storm's Krypton model is a custom-built, 17.3-inch piece of excellence that aims to cram the best features of a gaming desktop within the confines of a simple laptop space. With NVIDIA's fastest GTX 900M series GPUs and Intel's 4th gen Core i7 processor, it's also prepared to be your force for gaming in the years to come – it boldly claims to be "a mobile war machine with an unquenchable thirst for upgrades, allowing you to remain a dominant force for years to come" – it'll be anything but Kryptonite to your gaming prowess.
How much do you know about HP? Take our quiz!