10 Apps To Manage Your Social Media Accounts
TechWeekEurope lists the best apps to streamline your social experience and make a bigger impact for your business
Twitter, Facebook, Pinterest, LinkedIn, Google+, Snapchat: if these names strike a chord with you, then it's quite likely that you're locked in a battle of keeping up appearances online, whether that be at work, for your business, or in your everyday life.
With social media now so integral to business (and, indeed, life as we know it), app developers have struck gold by bringing out a range of social media management apps to help you keep on top of the plethora of accounts that you're no doubt manning, be it for work or leisure.
But which are the best social media management apps? Here's our guide to 10 of the finest on the market.
Snowball
Are you missing vital notifications and engagement opportunities for the multitude of social media accounts that you're overseeing? Never fear, for Snowball is here. Well, remain in fear if you're not an Android user, for this app is exclusive to that particular operating system. Snowball prioritises the notifications from the apps that you hold most dear to ensure that you're getting the information you need as soon as it flies into your smartphone or tablet.
Everypost
Let's face it, you can't be on social media all the time – no matter what those teenagers seem hell-bent on proving otherwise. That's why you need a nifty, helpful service like Everypost: create, customise and schedule tweets, Facebook posts and a whole load of other social updates, all by using their fully integrated and intuitive app. Looking to post an update across your various social media platforms? Everypost's got you covered. Fancy scheduling a certain set of tweets to go out at certain points across an evening or night? Everypost has got your back.
Hootsuite
Hootsuite helps you compose, schedule and share your social media posts in the most effective and practical manner possible. A streamlined and sleek-looking app that's rather pleasing on the eye, it's also awfully popular: the world "most popular social media management app", to be precise. As an added bonus, its service is free for you to use with up to three of your social network accounts.
Buffer
While the name of this app is something that usually makes internet users worldwide recoil in horror, Buffer is actually quite helpful in this instance: its aim (for business, at least) is to assist you in "driving traffic, increasing fan engagement and saving time on social media." You can schedule your posts to all social networks whenever you like, upload pictures and videos easily, and create your own content whenever you feel inspired – all within one, pocket-sized app.
CM Notification
Jostling for elbow room with direct competitor Snowball, CM Notification specialises in sifting through and putting forward the notifications and messages from the social media accounts that you care about the most. And that's all there is to it, really – handy, though.
Pagemodo
Finding, posting, and scheduling your way to happiness when it comes to sharing content? Pagemodo's got your back, social media-wise. If you're constantly using Facebook, Twitter and LinkedIn with your business, then you'll find this tool particularly beneficial – especially if you want to share your posts across different social media platforms. So, if you're looking to social on the go, then Pagemodo is surely the app for you.
 Crowdfire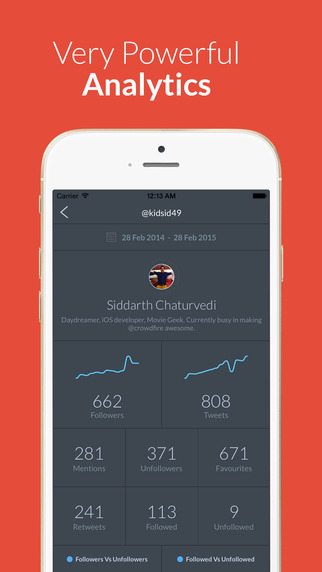 This app wants to help you grow both your Twitter and Instagram reach, which sounds like a great thing if these particular platforms are vital to your business interests. Crowdfire "makes finding and connecting with your target audience simple", which, given its 12 million downloads and counting, must work. What it actually does is locate your 'unfollowers' (that's the people/accounts that have not reciprocated your follow), your fans (shoe's on the other foot – the people who follow you but you don't follow back), and a tool called "copy followers": it apparently finds the people and accounts online who'll not only be an ideal follow, but will also follow you back and help grow your online presence. Phew, that's a lot of following.
Friendly Plus
Peeved at the Facebook app that Mark Zuckerberg makes you download onto your smartphone or tablet? Pah, off with you Zuckerberg – I'm downloading Friendly Plus instead. This app offers an interesting alternative to the official friend-poking-picture-stalking platform, with the added bonus of also being fully integrated with Instagram and Facebook Messenger. Enabling you to switch quickly and easily between those two accounts, it's social media management made easy, and as such, it's a fine substitute for the real thing.
Stats
Specialising in Twitter and Instagram, Stats will appeal to those readers who live and die by analytics. If you're particularly passionate about graphs showing user interaction, site visits and brand engagement, then Stats is the app for you, friend. Offering a clear picture of how you and your competitors are doing in this sector of the online universe, there are detailed graphs, comparison options and flexible time periods for you to while away the hours, devouring all the analytics you can manage.
Trello
And finally: we have Trello. Not essentially an app that'll directly help you manage your social media accounts, Trello is first and foremost a fine platform for helping you keep on track of all your projects – and why can't social media policy be one of those? Providing an interactive set of list-boards that any number of individuals can be invited to contribute to, it gives you a clear perspective on how progress is coming along – including your social media policy.