Two-Socket To You, Oracle Declares War Armed With Data Centre Price Cuts
Oracle's X5 Engineered Systems range will go head-to-head with Cisco, EMC
Oracle will be slashing the prices of its data centre equipment, producing lower-performance servers to snap up customers who just don't want to pay out big unnecessarily.
Oracle founder and CTO Larry Ellison announced a fresh family of the firm's Engineered Systems servers yesterday, collectively called the X5. Highlights include the Virtual Compute Appliance X5, Oracle FS1 Series Flash Storage System, and sixth-generation Oracle Exadata Database Machine X5.
'Impediment'
O
racle has traditionally opted for performance over price, but Ellison marked a U-turn yesterday, admitting that the price of Oracle's hardware has sometimes been an "impediment".
With Cisco and EMC's joint venture VCE, the smaller, cheaper, two-socket x86 servers have been very successful in the data centre world.
"We have a new strategy," Ellison said. "We're going to compete for that two-socket data center core business. And from what I can tell, the way to compete is to have the lowest price.
"Our appliances and engineered systems deliver the highest performance by a large margin at the lowest purchase price for the data center core. They get the job done faster, more securely and more reliably than any competitive offering available today," said Ellison.
Ellison, the fifth richest person in the world with a net worth of $54bn, said that Oracle's customers "want their data centers to be as simple and as automated as possible", and with the X5 range, they will be paying '50 percent less' but willing to handle "TWICE the performance".
To demonstrate Oracle's X5 server pricing, Ellison flashed this slide comparing the new pricing structure to Cisco's: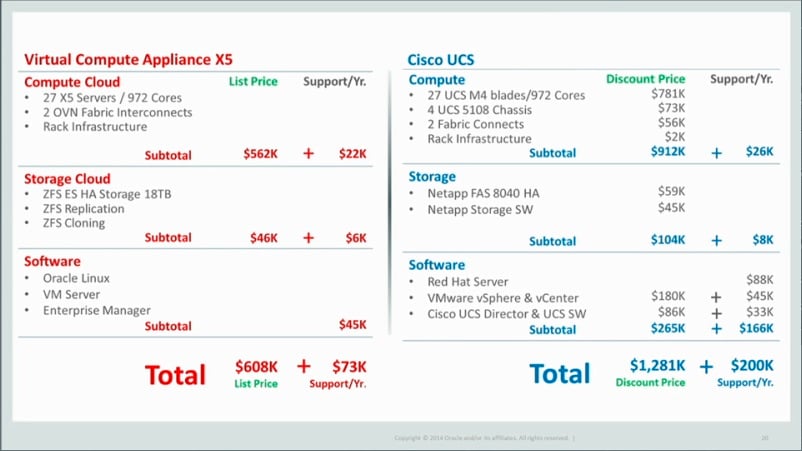 Oracle calls this plan the 'Datacenter of the Future', but it certainly isn't new to the idea as it has been defined by its competitors such as VCE and Cisco. Thus, the main thrust of the strategy is a boots on the ground price war.
During the announcement, Ellison reportedly took the opportunity to take a swing at EMC too, the parent company of VMware.
Ellison said: "Our list price is less than half of their discount prices," adding that Oracle will negotiate even lower prices if the customer wishes.
Here are some of the freshly announced X5 boxes:
Oracle's Virtual Compute Appliance X5: Paired with the Oracle FS1 Series Flash Storage System, the Virtual Compute Appliance provides a complete, converged infrastructure system. Deployed in a matter of hours, this system can dramatically reduce cost, risk, installation, and management time, and give customers the ability to easily reduce infrastructure complexity by as much as 70 percent, deploy applications 7x faster, and cut capital expenditures by as much as 50 percent. Compared to Cisco plus EMC, Virtual Compute Appliance is 50 percent cheaper and easier to deploy.
Oracle Database Appliance X5: Ideal for distributed and branch office deployments, Oracle Database Appliance offers a complete package of compute, storage, and software that saves time and money by simplifying deployment, maintenance, and support of database and application workloads. Oracle Database Appliance X5 adds flash caching, integrated InfiniBand connectivity, increased compute cores, and increased storage to improve consolidation density by up to 4x.
Oracle Big Data Appliance X5: Delivers comprehensive and secure Hadoop and NoSQL capabilities to the enterprise at a 35 percent lower three-year total cost of ownership and with 30 percent faster deployment time than a custom-built cluster. For faster, lower-cost throughput, the new appliance comes with twice the RAM and 2.25x the processor cores. Also available on Oracle Big Data Appliance is the latest version of Oracle Big Data SQL, which extends Oracle SQL to Hadoop and NoSQL, enabling customers to use one fast SQL query across all their data, with no application changes.
Oracle's Zero Data Loss Recovery Appliance X5: Provides a groundbreaking Oracle Database-integrated data protection solution that eliminates data loss exposure for all Oracle databases, with minimal impact to production environments. Available today, this new version offers faster processors and up to 30 percent expanded capacity within a single rack, enabling faster recovery, higher throughput, and improved database backup consolidation
What do you know about Oracle? Take our quiz!
Read also :