Be prepared for take-off with this veritable selection of flight apps
"I wanna fly like an eagle," remarked Steve Miller to his band in 1976. And y'know what? They only went and wrote a song based on his crazy ol' idea. Sadly, the 2015 version, "I Wanna Download An App That'll Help Me Book A Flight In Seconds That Won't Take A Big Hit On My Savings", never quite made it, but we can't have it all, can we?
Anyway, as it is now officially Summer™, the likelihood that you're going to want to emulate Miller by getting on a plane and flying somewhere nice for a week or two is far greater now than it is in, say, November. In honour of that very fact, TechWeekEurope have deemed it fitting to pilot you safely through the turbulence of selecting the best flight apps.
momondo
Excellent name aside, the momondo app aims to bring its sleek flight and hotel search engine to your fingertips, allowing you to peruse apparently "billions" of prices worldwide. Available to download for free, its flight section permits you to firstly browse results from tons of travel sites – from major airlines to low cost carriers – through its 'Flight Calendar' (which "helps you find the best fares for your budget by showing the average prices for airline tickets on different dates in a clever, interactive calendar that works great on your phone") and then, if something takes your fancy, book directly through the app.
Skyscanner
If momondo for some reason doesn't appeal, then the royally-similar Skyscanner is a fine alternative. Bedecked with multiple (and nameless) awards and over 35 million ecstatic users, their service is globally-renowned for finding the best prices for flights across a selection of dates. Searching across hundreds of airlines in mere seconds, the Skyscanner app aims to save you both time and money – both valuable commodities, we think you'll agree.
Bravofly
Declaring precisely how many airlines they search across – 350, for those interested – Bravofly are evidently keen on clarity rather than wildly over-approximating the extent of their service, like some of their competitors (ahem, momondo). Does this mean that you should choose Bravofly as your flight app of choice? Perhaps. Another flight price comparison service, this app works its darnedest to find you a seat for the cheapest possible price. It also offers capabilities to do group bookings, so that's your stag weekend with the ladz ladz ladz sorted.
lowcostholidays
lowcostholidays have no time for grammar, because they're too busy finding you the best and most cost-effective deals on your flights and accommodation. Their app continues the fine work being done on their website into the confines of your smartphone, where its smiley-emoji logo grins at you from all corners as you decide upon where on earth you should spend those precious days off this summer – in fact, that's really your only worry here, as the app takes care of everything else, from baggage to insurance. There's also an 'Inspire Me' function, which sounds particularly tantalising.
CheapOair
Booking a flight on the go? CheapOair wants to be your personal travel agent. With access to deals from over 450 airlines, as well as mobile-exclusive offers, this app really could secure you the best value for money on your next flight. With extra features that include flight tracker, sharing function and car rental offers, don't feel like a cheapo when downloading CheapOAir: feel like a money-saving king instead.
Travel Hacking
Hack, hack, hack! This is an intriguingly-titled app, as proven by the fact that your curiosity has been piqued by its title alone. Now that you're trapped on this particular entry, let's introduce you to Travel Hacking: rather than being an app that helps you book a flight, this service aims to school you on how to travel for free (or mostly free). Capitalising on the loopholes of frequent flyer and airline rewards systems, Travel Hacking guides you through the process of accumulating regular frequent flyer miles, even if you're not actually flying. "Free frequent flyer miles really aren't that difficult to obtain if you know the right tips and tricks," boasts the bio, so, if this app really can help you build up those rewards and earn you a free flight, then get on board with Travel Hacking.
Air Canada
Air Canada want to be your buddy, guy with their nifty companion app. Offering, amongst many, many other Air Canada-specific things, the ability to (flexibly) search for and book Air Canada flights, pick your seat prior to departure, and keep track of your flight status through their notification service, it's certainly a must-have if you're a frequent traveller with this particular airline. The obvious caveat? It's only really a must-have if you mostly travel with Air Canada.
JetSmarter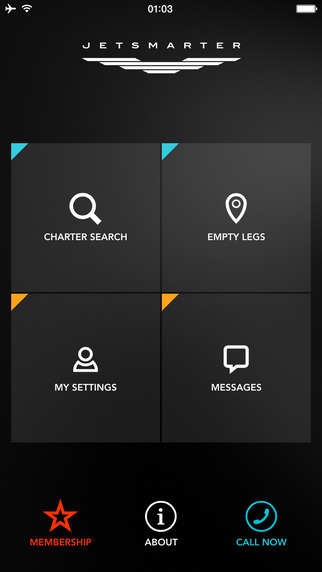 Camus can do, but Sartre is JetSmarter. Sorry. So it's a private jet you want, eh? You extravagant person, you. This app claims that it can hook you with up private air transport just through a few taps and swipes of your smartphone (and on the provision that your credit card a) works and b) has lots of dosh on it). Enabling you to search from over 3000 private planes worldwide and then be able to request one at your leisure, this is perhaps one app to put in the 'Life Goals' list.
ebookers Travel
Supposedly "the fastest and easiest way to book hotel rooms, flights and car hire", ebookers certainly promises much from their app. Their 'flight price overview' presents a clear way of viewing the different types of flights that are available over a certain period of time, as well as searching for the best prices to suit your budget. Joining their free ebookers 'BONUS+' rewards programme also gives you things like a 5% cash reward to use on a hotel booking and 2% discount on flight bookings – every little helps, probably.
Hipmunk
Hipmunk's app is noteworthy for their unique search filter: "agony". Specialising in finding you flights that have the least number of stops and the shortest flight duration – as well as the cheapest prices – it calculates the "agony factor" to help you make the most sensible travelling decision. The lower the "agony factor" is, the better priced and least-stressful you trip will be. Plus, their app wins the 'Best Mascot' award: a placid chipmunk who appears to be a flight enthusiast. Take that, lowcostholiday's relaxed smiley-emoji.